There are (2) 10-79953Q04 Screws in the Outdrive, the bottom is the Drain/Fill and the top is the Vent. Use a large slotted screwdriver to remove/Install screws.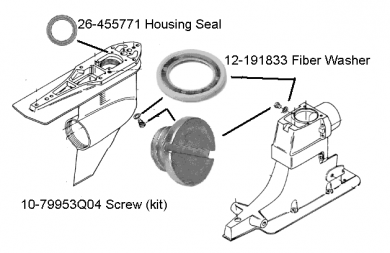 To drain the unit, make sure the unit is straight down and not tilted. Place a container that will hold approximately two quarts under the outdrive, make sure that no oil spills onto the ground. Remove the upper and lower 10-79953Q04 Screws. If the screws will not turn, use a smaller screw driver, place on one corner of the slot, tap the screwdriver with a hammer in the direction (left) that would remove the screw. If that doesn't work, it will be necessary to use an impact hammer to remove the screws. It is important to inspect the oil as it drains, if the oil contains water, looks milky, you may have a cracked housing or bad seals. The unit must be repaired before going any further.If the oil is black and looks dirty, you need to make sure you change your outdrive oil with more regularity. Check your owner's manual for maintenance intervals.
Let the oil drain for at least 20-25 Minutes checking the oil for metal shavings, this too can be caused by water entering the unit or worn parts within the unit.
Before filling the outdrive, remove the two 12-191833 fiber washers and clean the sealing surface . The washers are sometimes glued in place and may require a little work to remove. It's our practice to fit the new fiber washers onto the Screws sealing them with 92-34227Q02 perfect seal sealing compound. This will keep the fiber washer firmly onto the screw.
To fill the unit, make sure the unit is straight down and not tilted. The outdrive must be filled from the bottom, there are no exceptions. Failure to do this will cause premature failure .Use a Pump such as 91-802891Q 2 to fill the unit from the bottom, using only High Performance gear lube. Tip; leave the pan under the unit until the filling operation is completed.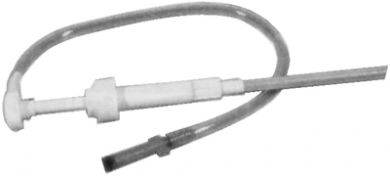 Pump 91-802891Q 2 fits onto the standard quart-size gear lube bottle. The drive unit will hold approximately 2 quarts, more if you have a remote gear lube reservoir. Fill the unit until the oil comes out the top hole. Once the unit is filled, with the pump still attached, install the top screw and gasket, tightening it firmly with a slotted screwdriver. Now, remove the pump and install the bottom screw using the same procedure. Discard the oil in the drain pan. Also, it's wise to clean the outdrive from any oil before placing boat into the water
If the two houses have been separated, replace the seal (26-455771) between the two housings. Use 92-34227Q02 perfect seal, sealing compound to secure the seal to the lower housing. Failure to do this properly will cause the oil to leak between the two units